Mystery of the Last Olympian at Last!
Charlie's Corner Cafe
Recent Entries
Actually, in all fairness, the schedule for research, writing, and publishing, Mystery of the Last Olympian Titanic's Tragic Sister Britannic, has been pretty ambitious. The scope of the project was wider than most of my other books and there were a lot of significant people to interview as well as intricacies in blending history, science, technology, adventure, and memoir together. It has been an exciting ride and initial response to the book has been strong. At the moment, it's available on Amazon (in print and Kindle), and Barnes & Noble and BooksAMillion will be added later. It can also be ordered through Best Publishing and the dedicated website, http://mysteryofthelastolympian.com will be periodically updated with news and photographs.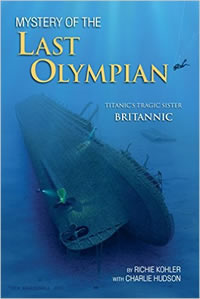 Richie Kohler, of Shadow Diver and "Deep Sea Detectives", fame has made multiple appearances in addition to the big launch we had at the, "Our World Underwater Dive Show", in Chicago the last week of February. Even though the book focuses heavily on the saga of forty years' worth of exploration on this extraordinary shipwreck, the intent was to tell the story in a way that could appeal to broad readership. It was especially gratifying when a friend of Richie's posted a blog where she fully acknowledges she is a non-diver and said, "You don't need to be a history buff to enjoy this book, it grabbed my attention and that says a lot ;). For those of you who are wondering, I was not paid to write this. Yes, Richie is a personal friend but as you know, I don't promote anything I don't believe in, especially a book about sinking ships."
We've had numerous questions about an audiobook and the odds are that will come about although I'm not certain of when. Unlike what I usually do, I can't post the entire first chapter because of certain restrictions, but I have provided the Table of Contents.
And yes, with the time this project has taken, my novel writing has lagged. I'll update about that as soon as I have a better handle on what my schedule is going to be in the near future.
I hope all of you who are still coping with cold weather will have warmth returning soon and beautiful blossoms on the way before too long.
Charlie